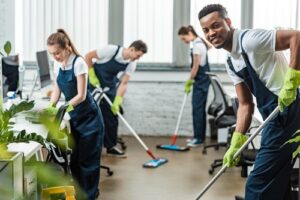 With the arrival of the new year, it's not uncommon to find yourself in the process of creating a fresh budget. This often involves scrutinizing expenses, including services like commercial cleaning. While it might not be the most glamorous aspect of running a business, maintaining a clean and hygienic workplace is crucial for
the well-being of your employees
the overall productivity of your organization.
Did you know that workplace stress and illnesses are costing American businesses an estimated $190 billion annually in healthcare expenditures? That's a staggering sum, highlighting just how important commercial cleaning can be.
Beyond simply sanitizing high-touch surfaces to prevent the spread of germs, a well-executed cleaning regimen can foster a healthy environment. Such an environment can positively impact employee behavior, promote good habits, and boost overall morale.
If you're looking for ways to streamline expenses, it's a smart move to periodically assess whether you're paying for services that may no longer be necessary. It's also a good idea to obtain quotes from different cleaning companies to determine if your current cleaning service costs are competitive within the market.
It is important to bear in mind the value of exceptional customer service and meticulous attention to detail when considering cost-cutting measures. Additionally, ensure that your budget takes into account one-time or sporadic services to avoid unwelcome mid-year financial surprises.
Planning Tips For Commercial Cleaning
Getting an Accurate Quote
When you reach out to other cleaning service providers like Cumberland Cleaners for quotes, precision is key. Clearly outline the services you require, the frequency of those services, and your expectations.
Commercial cleaning is far from a one-size-fits-all industry, and costs can vary based on factors such as
the size of your office or facility
specific cleaning needs
geographical location
When you request a quote, anticipate a representative from the cleaning company visiting your premises. They will typically take detailed notes and measurements, including square footage. Expect questions about
the specific services you're looking for
any problem areas or concerns
how often you'd like your office or facility to be cleaned.
his personalized approach ensures that the quote is tailored to your unique requirements, preventing you from overpaying for services you don't need.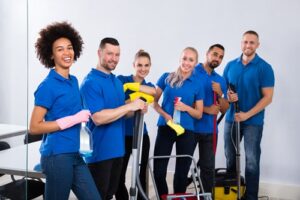 Asking the Right Questions
Don't be hesitant to inquire about the specifics included in the quoted price. While most cleaning quotes cover the cost of cleaning supplies and equipment, it's important to clarify whether items like paper towels, toilet tissue, and liquid soap are part of the package.
This thorough understanding helps you avoid unexpected expenses and enables a fair comparison between quotes.
Similarly, don't make assumptions about which services are included. For instance, many cleaning services include regular vacuuming, but what if you need them to address occasional carpet stains?
Or, if your office experiences heavy foot traffic and requires more frequent carpet cleaning  Be sure to inquire about the additional cost. This way, you can incorporate these expenses into your budget planning.
Consider Crossville commercial cleaning services that may be needed on an annual or periodic basis, such as window cleaning or exterior pressure washing. Request quotes for these services as well to ensure that you have a comprehensive understanding of your potential cleaning costs.
Beyond Cost and Services
While cost and services are primary considerations, there are other essential factors to take into account when making your decision. Ensure that the cleaning company is bonded and insured to provide coverage in case of accidents or damages.
Consider whether their cleaning staff wears uniforms for easy identification and to convey professionalism and trustworthiness. Reliability is also a key factor—cleaners should consistently adhere to their scheduled appointments and take special care of your workspace.
In summary, just like any other business expense, effective budgeting is paramount for commercial cleaning in Crossville TN. By proactively assessing your office's cleaning needs and clearly communicating your expectations to the cleaning service provider, you can minimize budget surprises and ensure a smoother cleaning experience.
Ultimately, a clean and healthy workplace contributes to a more productive and content workforce, making it a worthwhile investment in the long run.
Do you need reliable cleaning services for your business? Call Cumberland Cleaners now.
Cumberland Cleaners
4025 Lantana Road
Crossville, TN 38572
931-200-9964
https://cumberlandcleaners.com/