Pikeville has a rich history that goes back all the way to 1816. It was in 1830 that Pikeville became a significant place in Bledsoe County, serving as its central hub for government and community activities. Even though Pikeville's population is quite small, with only 1,923 residents in 2023, its historical importance stretches far beyond its size.
Embracing its storied past, Pikeville takes great pride in its role in shaping the nation's history. From its involvement in the early days of settlement to its contributions during the Civil War, Pikeville stands as a witness to the challenges and successes of our ancestors. This sense of historical significance is evident as you wander through the streets and explore the well-preserved landmarks that harken back to times long past.
Now, let's delve into why Pikeville TN commercial cleaning services can be a boon for businesses of all sizes:
Benefits of Hiring Pikeville TN Commercial Cleaning Services
Simplifies Work for Employees
Cleaning the office can be a challenging and time-consuming task. During a typical 40-hour workweek, there's only so much time to spare for deep cleaning. When you enlist the services of professional janitors, your employees can dedicate their energy to their core responsibilities without the added stress of office cleaning.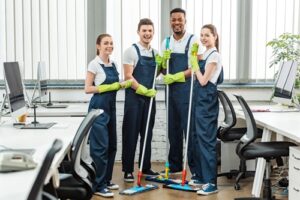 These janitors are not only trained but also insured by the janitorial service provider, ensuring that your employees can focus on their work without worrying about potential accidents or injuries during cleaning. This allows your team to perform at their best, making janitorial cleaning services a crucial asset for businesses today.
Of course, basic cleaning courtesy should still be practiced by your employees, as it helps maintain a tidy workspace and reduces the workload for the cleaning crew. By working together, you can create a more productive and harmonious work environment for all.
Time and Money Savings
While hiring professional janitorial services may seem like an additional expense, the benefits far outweigh the costs. You won't need to hire additional full-time janitors, as these services provide expertise and efficiency that lead to impressive results.
When your employees return to work on a Monday morning, they'll be greeted by a spotlessly clean office environment, rather than dingy carpets and dusty shelves. This not only boosts employee morale but also saves you the expense of recruiting and managing additional cleaning staff.
Improved productivity and increased employee retention are additional perks of maintaining a clean office environment. Clean and organized workplaces foster a sense of productivity and focus among employees, reducing distractions and stress. In contrast, a cluttered and unclean workspace can lead to decreased productivity and higher turnover rates.
Promotes Healthier Workplaces
One of the most apparent benefits of janitorial services is the removal of germs and bacteria. These invisible threats can cause sickness among employees, leading to increased sick days, which can be costly in terms of both time and medical expenses.
Commercial cleaning services in Pikeville TN also contribute to better air quality and help alleviate allergy issues. Professional janitorial companies are equipped with the knowledge and tools to choose the right cleaning products for specific situations. Their thorough cleaning practices surpass what most employees can achieve independently, effectively reducing the presence of harmful germs and bacteria.
Moreover, professional cleaning services often offer specialized solutions such as electrostatic spray disinfection, which utilizes advanced technology to eradicate bacteria and microorganisms effectively. This not only benefits employee health but also creates a happier and more productive workspace.
Creating a clean and safe environment is crucial. Janitors not only clean but also identify and address potential hazards, reducing the risk of accidents for employees. By hiring Pikeville TN commercial cleaning services, you gain an extra set of eyes dedicated to ensuring workplace safety.
Additionally, maintaining clean floor mats can help prevent the spread of dirt and allergens into the office, further contributing to a safe and healthy work environment.
Enhances First Impressions
A clean office can make a significant impact on customers and visitors, leaving a positive first impression. It demonstrates your commitment to maintaining a professional and welcoming workspace, potentially attracting new customers and clients.
The benefits of janitorial services extend beyond small businesses, as larger corporations can also benefit from the enhanced image and improved workspace conditions that professional cleaning offers.
In conclusion, Pikeville TN commercial cleaning services are an invaluable asset for businesses of all sizes. They simplify office maintenance, save time and money, promote a healthier work environment, and create positive first impressions. Trustworthy and experienced janitorial companies, like Cumberland Cleaners, can help maintain your office's cleanliness, safety, and reputation.
Request Your Cleaning Service
Why Choose Cumberland Cleaners For Your Cleaning Services in Crossville?
Experience and Expertise
Cumberland Cleaners has been a trusted name in the commercial cleaning industry for years. Our team of highly trained professionals possesses extensive experience and expertise in delivering exceptional cleaning services. We understand the specific needs and challenges faced by businesses in Crossville, TN, and are dedicated to providing tailored solutions for all your commercial cleaning needs.
Comprehensive Cleaning Solutions
From routine cleaning to specialized services, Cumberland Cleaners offers a wide range of cleaning solutions to address every aspect of your business's cleanliness. Our flexible packages allow you to choose the services that align with your requirements and budget, ensuring maximum value for your investment.
Cutting-Edge Equipment & Eco-Friendly Practices
Cumberland Cleaners utilizes state-of-the-art equipment and eco-friendly cleaning practices to achieve superior results while minimizing environmental impact. By combining advanced technology with sustainable cleaning methods, We deliver a clean and healthy workspace without compromising on our commitment to the planet.
Customer Satisfaction
The success of Cumberland Cleaners is built on a foundation of customer satisfaction. We prioritize our client's needs and strive to exceed expectations in every aspect of your cleaning service. With our attention to detail, professionalism, and dedication to delivering outstanding results, Cumberland Cleaners has built a reputation for excellence in the Crossville, TN area.
Flexible Scheduling
Recognizing that every business has unique requirements, Cumberland Cleaners offers flexible scheduling options. Whether you need daily, weekly, or monthly cleaning services, we will work with you to create a cleaning plan that fits seamlessly into your business operations. Our team is committed to minimizing disruption and ensuring a smooth and efficient cleaning process.
Remember, a clean and organized work environment not only enhances productivity but also leaves a positive impression on clients and employees. With Cumberland Cleaners as your trusted partner, you can focus on what matters most – growing your business – while we take care of the cleaning.
Why settle for anything less than the best? Choose Cumberland Cleaners for all your commercial cleaning needs in Crossville, TN. Experience our exceptional service, attention to detail, and commitment to customer satisfaction.
Phone Number
+1 (931) 200-9964
Our Address
4025 Lantana Road Crossville, TN 38572
Email
cumberlandcleaners.tn@gmail.com