Crossville and Cumberland County proudly wear the title of "Tennessee's Golf Capital." Nestled on the Cumberland Plateau, this region boasts a selection of nine championship golf courses catering to golfers of all skill levels. Crossville and Cumberland County stand as the premier destination for golf enthusiasts in the state.
Beyond the greens, visitors are greeted with Southern charm in Crossville TN, picturesque countryside, and the enduring heritage of a small-town community. Discover a world of shopping opportunities, from the Crossville Outlet Mall to charming antique shops and the historic Crossville Depot. Nature lovers will be captivated by the region's outdoor splendor with attractions like Cumberland Mountain State Park inviting exploration along serene trails.
A stroll through Crossville Courthouse Square reveals a delightful blend of restored buildings and new businesses, offering a glimpse into the town's rich history and vibrant energy. For those paying homage to our armed forces, the Military Memorial Museum is a must-visit with artifacts spanning from the Civil War to the Iraq wars. Additionally, the museum houses intriguing exhibits related to Camp Crossville, the World War II German prisoner-of-war camp that once operated in the area.
The Significance of Commercial Janitorial Services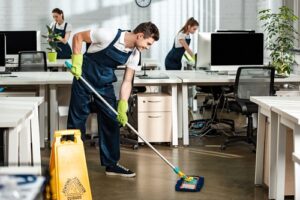 Cleanliness is an essential aspect of our daily lives, impacting our health, safety, comfort, and overall well-being. It fosters an environment of order and efficiency, enhancing the livability of our homes and the productivity of our workplaces. This significance amplifies when applied to the realm of commerce.
The cleanliness of commercial spaces directly influences the well-being of employees and clients alike. It plays a pivotal role in shaping perceptions regarding a business's professionalism, attention to detail, and respect for its stakeholders.
At the core of maintaining cleanliness in these spaces are commercial janitorial services. These professionals go beyond routine cleaning tasks like sweeping and mopping. They offer comprehensive cleaning solutions that encompass every nook and cranny of commercial premises, from restrooms to office cubicles, and windows to carpets.
Their services span sanitization, deep cleaning, waste management, and even specialized maintenance tasks such as power washing or upholstery cleaning.
We aim to shed light on the often-underappreciated world of commercial janitorial services, exploring
the reasons behind their significance
the diverse array of services they provide
their impact on business productivity and reputation
why businesses, regardless of size or industry, should seriously consider investing in professional janitorial services.
Elevating Workplace Productivity and Efficiency
The workplace environment wields a profound influence on a company's productivity and efficiency. A clean, well-organized workspace fosters positivity, motivation, and focus among employees. This boosts their productivity. This is an arena where commercial janitorial services excel.
To begin with, a clean workspace saves time otherwise spent searching for items or navigating through clutter. A tidy work environment allows employees to concentrate on their tasks, resulting in increased productivity.
Moreover, cleanliness directly affects employees' mental health. Research published in the Journal of Neuroscience has shown that clutter impedes brain processing, leading to stress and distraction. Commercial janitorial services play a pivotal role in
maintaining clean and clutter-free workspaces
facilitating employee focus,
reducing stress
enhancing job satisfaction.
A clean workplace contributes to both mental and physical health. Janitorial services proactively prevent the spread of diseases.
Lastly, a clean workplace nurtures pride and fosters respect for the organization. This attitude breeds commitment, motivation, and improved performance, ultimately enhancing operational efficiency.
Upholding Health and Hygiene Standards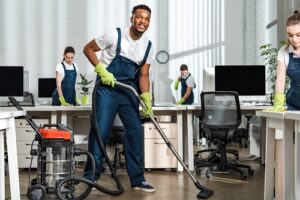 Commercial cleaning services extend beyond aesthetics and efficiency; they prioritize workplace health and hygiene. Thorough cleaning and sanitation services are integral to reducing allergens, bacteria, and other harmful contaminants, safeguarding the health of employees and visitors.
High-traffic office spaces can become breeding grounds for germs and allergens. Harmful microbes often lurk in shared spaces such as kitchens, restrooms, and frequently touched surfaces like doorknobs, keyboards, and office equipment. Without regular and thorough cleaning, these areas can facilitate the spread of colds, flu, and other serious illnesses.
Professional janitorial services employ EPA-approved disinfectants and specialized tools that are more effective at killing pathogens compared to standard cleaning products. They adhere to established protocols for cleaning and sanitizing various surfaces and areas, ensuring a more comprehensive and efficient office cleaning.
Janitorial services have gained even greater importance during pandemics, as they excel in deep cleaning and disinfection, aiding businesses in meeting health regulations.
Regular professional cleaning also mitigates allergens such as dust, mold, and pollen, which can exacerbate respiratory conditions among employees. Maintaining a clean workspace contributes to safe and comfortable air quality within the workplace.
Enhancing Your Business Image and Professional Appearance
The appearance of a company often reflects its values, work ethic, and professionalism. Well-maintained and clean commercial spaces convey to clients, customers, and partners the company's attention to detail, commitment to excellence, and respect for stakeholders. This perception has the potential to strengthen relationships and attract more business.
First impressions hold immense significance in business relationships. The cleanliness and organization of a business space significantly influence the initial impression it makes on potential clients or partners.
A clean, orderly environment serves as evidence of efficient management, reliability, and concern for reputation. Conversely, disorganized or poorly maintained surroundings may cast doubt on a company's competence and professionalism.
Cleanliness also conveys a company's commitment to the health and well-being of its employees, signaling a positive work culture. Such perceptions can help businesses attract more clients and top-tier talent, facilitating growth and success.
In industries where health and hygiene are paramount, such as healthcare, food service, and hospitality, cleanliness is vital for customer trust. Commercial janitorial services ensure that businesses meet and exceed industry-specific hygiene standards, resulting in increased customer satisfaction and loyalty.
Clean and well-maintained commercial spaces also contribute to customer satisfaction. Whether it's a retail store with clean fitting rooms and well-organized displays or an office with pristine, comfortable waiting areas, clean businesses leave a positive impression on customers.
Ensuring Expertise and Specialization in Cleaning Services
Commercial cleaning requires specialized skills, knowledge, and meticulous attention to detail, qualities that only professional janitorial services can provide. These professionals handle a wide range of tasks, from dusting and mopping to deep carpet cleaning, window washing, and power washing. They are also adept at cleaning and maintaining various materials, including wood, glass, metal, and upholstery, each of which requires specific methods and products.
One significant advantage of professional janitorial services is their systematic approach to cleaning. They follow proven cleaning protocols and checklists, ensuring that every area of your commercial space is thoroughly and consistently cleaned. Whether it's dusting hard-to-reach areas, sanitizing frequently touched surfaces like door handles and light switches, or conducting deep cleaning of restrooms, they pay meticulous attention to detail.
Janitorial services also possess expertise in selecting and applying cleaning products. This knowledge is vital for effective cleaning and facility preservation. Using the wrong cleaning agent can damage certain materials, but professional janitors understand which products are suitable for each surface and task.
Furthermore, janitorial services prioritize quality control. They implement measures such as inspections and performance tracking to uphold cleaning standards, providing businesses with the assurance that their facilities are in the hands of trustworthy professionals.
Additionally, commercial janitorial services are well-versed in local health and safety regulations for commercial spaces, assisting businesses in adhering to these standards to avoid fines.
Combating Viral Infections with Commercial Cleaning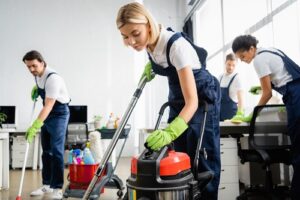 Recent global health crises have underscored the importance of thorough sanitization and disinfection in the fight against viral infections. Janitorial services are at the forefront of this battle, employing stringent cleaning protocols to maintain clean, safe, and sanitary commercial spaces.
In janitorial services, commercial-grade disinfectants approved by environmental and health authorities are used to eliminate numerous viruses. Professionals understand the proper dwell times, which refer to the amount of time disinfectants must remain wet on surfaces to effectively kill viruses, and other aspects of using these products safely.
High-touch areas like doorknobs, elevator buttons, handrails, and office equipment are hotspots for viral transmission. Recognizing this risk, commercial janitorial services prioritize these areas for thorough disinfection.
Selecting the Ideal Commercial Janitorial Service: A Comprehensive Guide
Choosing the perfect commercial janitorial service can have a profound impact on the cleanliness, health, and overall ambiance of your workplace. When evaluating professional janitorial services, businesses should take into account a range of critical factors to ensure they make the right choice:
Reputation: The reputation of a janitorial service serves as a testament to its quality. Seek out businesses with a track record of positive customer feedback. Don't hesitate to request references and engage in conversations with past or current clients to gain valuable insights into their experiences.
Range of Services: Cleaning needs can vary significantly from one commercial space to another. Therefore, it's essential to confirm that your chosen janitorial service offers a diverse array of services that align with your specific requirements. Beyond standard cleaning, inquire about their capacity to handle tasks such as carpet cleaning, window cleaning, high-level disinfection, and emergency cleaning.
Sustainability: In an era of heightened environmental awareness, many businesses prioritize sustainability. Investigate the eco-friendly practices employed by the janitorial service. Do they use environmentally friendly cleaning products? What is their stance on energy and water conservation? Opting for a service that aligns with your sustainability goals can contribute to your company's green initiatives.
Qualifications and Training: The competence of cleaning personnel is paramount. Seek details about the training and qualifications of the service's employees. Safety measures should be a top priority. Ensure that the janitorial service is properly licensed, insured, and bonded to safeguard your company's interests.
Customizable Plans and Contracts: Recognize that each business possesses unique cleaning needs. The right janitorial service should offer the flexibility to tailor their cleaning plans to match your schedule, budget, and specific requirements. Fully comprehend the scope of the contract, including factors such as cleaning frequency, payment terms, and the cancellation policy.
Communication and Customer Service: Effective communication and outstanding customer service are pivotal aspects of a successful partnership. The janitorial service should maintain open lines of communication, making it effortless for you to discuss your needs, ask questions, and provide feedback. Accessibility and responsiveness are key indicators of their commitment to your satisfaction.
Quality Control Measures: Gain an understanding of the janitorial service's quality assurance process. Inquire whether cleaning supervisors conduct regular inspections to ensure compliance with cleaning standards. Additionally, familiarize yourself with their procedures in the event that cleaning falls short or requires redoing.
By meticulously assessing these factors, you can confidently select the commercial janitorial service that best aligns with your business's unique needs and priorities, ensuring a clean, healthy, and inviting workspace for your employees and clients alike.
Request Your Cleaning Service
Why Choose Cumberland Cleaners For Your Cleaning Services in Crossville?
Experience and Expertise
Cumberland Cleaners has been a trusted name in the commercial cleaning industry for years. Our team of highly trained professionals possesses extensive experience and expertise in delivering exceptional cleaning services. We understand the specific needs and challenges faced by businesses in Crossville, TN, and are dedicated to providing tailored solutions for all your commercial cleaning needs.
Comprehensive Cleaning Solutions
From routine cleaning to specialized services, Cumberland Cleaners offers a wide range of cleaning solutions to address every aspect of your business's cleanliness. Our flexible packages allow you to choose the services that align with your requirements and budget, ensuring maximum value for your investment.
Cutting-Edge Equipment & Eco-Friendly Practices
Cumberland Cleaners utilizes state-of-the-art equipment and eco-friendly cleaning practices to achieve superior results while minimizing environmental impact. By combining advanced technology with sustainable cleaning methods, We deliver a clean and healthy workspace without compromising on our commitment to the planet.
Customer Satisfaction
The success of Cumberland Cleaners is built on a foundation of customer satisfaction. We prioritize our client's needs and strive to exceed expectations in every aspect of your cleaning service. With our attention to detail, professionalism, and dedication to delivering outstanding results, Cumberland Cleaners has built a reputation for excellence in the Crossville, TN area.
Flexible Scheduling
Recognizing that every business has unique requirements, Cumberland Cleaners offers flexible scheduling options. Whether you need daily, weekly, or monthly cleaning services, we will work with you to create a cleaning plan that fits seamlessly into your business operations. Our team is committed to minimizing disruption and ensuring a smooth and efficient cleaning process.
Remember, a clean and organized work environment not only enhances productivity but also leaves a positive impression on clients and employees. With Cumberland Cleaners as your trusted partner, you can focus on what matters most – growing your business – while we take care of the cleaning.
Why settle for anything less than the best? Choose Cumberland Cleaners for all your commercial cleaning needs in Crossville, TN. Experience our exceptional service, attention to detail, and commitment to customer satisfaction.
Phone Number
+1 (931) 200-9964
Our Address
4025 Lantana Road Crossville, TN 38572
Email
cumberlandcleaners.tn@gmail.com