Dayton is a town in Tennessee, and it's near where Cumberland Cleaners is located. They have a population of around 7,065 people, according to the 2020 census. The town also includes nearby areas called the Dayton Urban Cluster.
In 1925, Dayton gained fame for the Scopes Trial, which was all about a debate between creation and evolution.
Now, let's talk about why it's a good idea for your office to hire Cumberland Cleaners for commercial cleaning services by Dayton businesses. 
Reliable and Trustworthy Commercial Cleaning in Dayton, TN
A recent study found that 87% of employees want their workplaces to be healthier. Keeping your office clean is a way to create a better working environment, which can lead to more productivity!
Cleaning your office every day can be a lot of work. Fortunately, you don't have to do it yourself. You can hire professional cleaners like Cumberland Cleaners. They'll make sure your office stays clean all week, so you don't have to worry about it.
You might be wondering why it's better to hire professionals instead of doing it yourself.
Reasons To Hire Professional Commercial Cleaners
Employee Productivity and Focus
Your employees have multiple responsibilities, and their time is valuable. While it may seem cost-effective to assign cleaning tasks to your staff, it can quickly become overwhelming as your office grows. Professional commercial cleaners, like Cumberland Cleaners, can efficiently and thoroughly clean your workspace, allowing your employees to concentrate on their primary roles. This shift in focus can significantly enhance overall productivity.
Asset Protection
Dust accumulation in commercial buildings can lead to wear and tear on equipment and furniture. Additionally, it can have adverse effects on your employees' health. Neglecting cleanliness inside your building can be costly in the long run. Hiring experienced professionals ensures that your valuable assets are protected and that your office maintains a clean and hygienic environment.
Quality Cleaning
Professional cleaners are experts in their field. They possess the knowledge and skills required to deliver top-notch cleaning services. When you hire a company like Cumberland Cleaners, you can expect a thorough and satisfactory cleaning. Their training and experience ensure that every corner of your office is cleaned correctly the first time, leaving surfaces free from odors and germs.
Client Impressions
In today's world, cleanliness matters a great deal. Research indicates that 92% of customers decide whether to become repeat clients based on the cleanliness of your office space and restrooms. This underscores the importance of maintaining a pristine workspace to make a positive impression on clients. By consistently hiring commercial cleaning in Dayton TN, you can ensure that your office remains inviting and professional.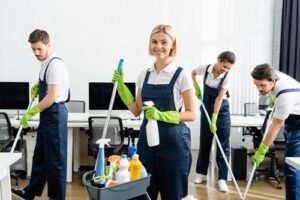 Morale and Productivity
Clean work environments have a direct impact on employee morale and productivity. A clean, well-organized, and aesthetically pleasing workspace leads to happier employees and higher job satisfaction. On the flip side, poor office maintenance can result in declining productivity.
If you've noticed a drop in output, it may be due in part to inadequate cleaning standards. Professional Dayton commercial cleaning services can help restore and maintain a productive work environment.
Pest Control
The presence of pests like mice or cockroaches in your office is a clear indicator of subpar hygiene. These pests are often drawn to food debris and can create an unsanitary and potentially disease-prone environment for your employees. One pest infestation is reason enough to hire professional commercial cleaning services in Dayton TN to swiftly eliminate the problem before it escalates.
OSHA Compliance
Handling commercial cleaning supplies safely and following best practices can be challenging without proper training. OSHA (Occupational Safety and Health Administration) has regulations in place to ensure safe chemical handling.
Violating these regulations can lead to hazardous situations. If your employees lack the necessary expertise, it's advisable to hire professionals who are well-versed in OSHA compliance to prevent accidents and health risks.
Partnering with Cumberland Cleaners or a similar professional cleaning service for your commercial building and office cleaning needs is not just a smart choice but a necessary one. It ensures that your workspace remains clean, safe, and conducive to productivity, all while leaving a positive impression on clients and protecting your valuable assets.
Don't hesitate to contact Cumberland Cleaners today to elevate your business by maintaining a clean and inviting work environment.
Request Your Cleaning Service
Why Choose Cumberland Cleaners For Your Cleaning Services in Crossville?
Experience and Expertise
Cumberland Cleaners has been a trusted name in the commercial cleaning industry for years. Our team of highly trained professionals possesses extensive experience and expertise in delivering exceptional cleaning services. We understand the specific needs and challenges faced by businesses in Crossville, TN, and are dedicated to providing tailored solutions for all your commercial cleaning needs.
Comprehensive Cleaning Solutions
From routine cleaning to specialized services, Cumberland Cleaners offers a wide range of cleaning solutions to address every aspect of your business's cleanliness. Our flexible packages allow you to choose the services that align with your requirements and budget, ensuring maximum value for your investment.
Cutting-Edge Equipment & Eco-Friendly Practices
Cumberland Cleaners utilizes state-of-the-art equipment and eco-friendly cleaning practices to achieve superior results while minimizing environmental impact. By combining advanced technology with sustainable cleaning methods, We deliver a clean and healthy workspace without compromising on our commitment to the planet.
Customer Satisfaction
The success of Cumberland Cleaners is built on a foundation of customer satisfaction. We prioritize our client's needs and strive to exceed expectations in every aspect of your cleaning service. With our attention to detail, professionalism, and dedication to delivering outstanding results, Cumberland Cleaners has built a reputation for excellence in the Crossville, TN area.
Flexible Scheduling
Recognizing that every business has unique requirements, Cumberland Cleaners offers flexible scheduling options. Whether you need daily, weekly, or monthly cleaning services, we will work with you to create a cleaning plan that fits seamlessly into your business operations. Our team is committed to minimizing disruption and ensuring a smooth and efficient cleaning process.
Remember, a clean and organized work environment not only enhances productivity but also leaves a positive impression on clients and employees. With Cumberland Cleaners as your trusted partner, you can focus on what matters most – growing your business – while we take care of the cleaning.
Why settle for anything less than the best? Choose Cumberland Cleaners for all your commercial cleaning needs in Crossville, TN. Experience our exceptional service, attention to detail, and commitment to customer satisfaction.
Phone Number
+1 (931) 200-9964
Our Address
4025 Lantana Road Crossville, TN 38572
Email
cumberlandcleaners.tn@gmail.com