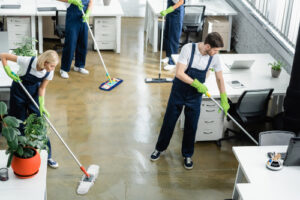 In the United States, the majority of active hours of the average adult are spent in the workplace. Although many companies hire cleaners, the standard of cleaning is often superficial, limited to a quick vacuum and trash removal, leaving behind
deeper layers of grime
allergens
germs lurking in carpets
germs on window treatments
within the fabric of office chairs.
Explore the top ten reasons to opt for a professional commercial cleaning service like Cumberland Cleaners and why it's a wise investment for your business:
Top 10 Reasons to Opt for Professional Commercial Cleaning
Enhanced Worker Efficiency A pristine, well-maintained workplace leads to happier employees who appreciate clean air free of accumulated dust. Studies suggest that indoor air pollution can impair cognitive abilities, thus impacting productivity negatively. Regular, deep cleaning by professionals like Cumberland Cleaners can significantly improve air quality, helping your team perform their best.
Lowered Disease Transmission – Fewer Absences A common challenge for businesses is the rapid spread of illnesses, which can cripple productivity. Professional cleanings can drastically reduce this risk, ensuring commonly touched surfaces and shared spaces are sanitized. This ultimately leads to a healthier workforce and less downtime due to sickness.
Safer, Healthier Office Setting Employee wellness is paramount, and many companies now strive for a greener footprint. Professional cleaners like Cumberland Cleaners can utilize environmentally friendly products that don't leave harmful residues, thereby ensuring a safer workplace and reducing the potential for allergic reactions.
Upgraded Professional Image First impressions count, and a clean, sanitary business environment conveys quality and attention to detail, enhancing customer and client confidence in your services or products.
Boost in Staff Morale Clean workplaces bolster morale, prompting employees to take pride in their work. This can lead to a more professional demeanor and even positively influence your company's public image, as employees share their work experiences on social media.
Greater Long-Term Savings While basic cleaning can leave behind dust and dirt, a thorough cleaning by a professional service can prevent the long-term costs associated with the wear and deterioration of your workspace environment, including the need for significant repairs or replacements.
Superior Cleaning Quality Professional services offer more advanced cleaning options, such as deep carpet and upholstery care, that go beyond the scope of everyday cleaning routines, resulting in a cleaner, fresher business atmosphere.
Extra Storage Space With a professional service, your company can reclaim storage areas used for cleaning supplies and equipment, as services like Cumberland Cleaners bring their own supplies and state-of-the-art equipment.
Broad Spectrum of Cleaning Options Cumberland Cleaners provides a full suite of cleaning services that may not be available from all providers, including specialized cleaning of upholstery, blinds, and carpeting. This ensures that all areas of your workplace are impeccably maintained.
Security Against Theft A professional, reputable cleaning company employs well-trained, reliable staff, minimizing the risks of theft that can come with less reputable cleaning services known for high employee turnover and inadequate training.
While cost is always a consideration, investing in a reputable commercial cleaning service like Cumberland Cleaners ensures your business is not only clean but also healthy, safe, and efficient, allowing you to focus on what you do best – running your company.
Get in touch with Cumberland Cleaners today to tailor a professional cleaning plan that meets your business's unique needs.
Cumberland Cleaners
4025 Lantana Road
Crossville, TN 38572
931-200-9964
https://cumberlandcleaners.com/